While my ex found me online at msn, and popped a hi before I got the chance to block her, this list came to my mind.
Five people Id rather be talking to right now >.>
5. The dude from american Psycho
4.
Jason from friday the 13th
3. Freddy Krueger
2.
the klu klux klan
1. Bob Saget
Posted at 01:33 am by
cross
Permalink
I ended up writing here...I'm sitting in my music class and I shuld have wrote a piano song for children by now... but no.... can't stand playing piano...

1. Angel Eyes

2. Gee Baby, Ain't I Good To You

3. Like Someone In Love

4. Nature Boy

5. One For My Baby(and one more for the road)
Posted at 05:45 pm by
Dogg
Permalink
Five things I dont want to hear when Im lying at the dentist's chair

"This wont hurt... much"


"Let's see, which one shall we use today, hmmmm"


"Is it me or does the air seem light to you?"


"HEY EVERYONE! Take a look at this!"


"Whooops! Sorry!"

I got two of them ><

Posted at 07:52 pm by
cross
Permalink
My friends mother woke me up a minute ago
I was dreaming that

* I was bedwetter and I overslept for work. And there were all this doctors gathered all around my futon to examine me.

and

* I did a theatre show which got good ratings in the paper, I was trying to find the review to show it to my ex's family, but only I couldnt.

and my favorite;

*My ex begging me to take her back

only,

* This time, theres a huge 18 wheeler parking next to us, and being driven by two power lesbians..

and outside,

* Zombies in my neighborhood, and goverment claiming they have the right to vote..

Posted at 02:40 pm by
cross
Permalink
Top five things to do in the early A.M.
1. Stumble out of a Club.
2. Stumble into my bedroom.
3. Fumble with my partners clothing.
4. Make fireworks and fabulousness.
5. Cook breakfast.
Posted at 10:48 pm by
Soulslack
Permalink
cross » sometimes I wish I was animated
Posted at 10:37 pm by
cross
Permalink
Top Five Things I Meant to Do Today That Never Happen
1. Yoga
2. Eat healthy
3. Get out of my pajamas
4. Talk to someone for more then ten minutes
5. Become extremly rich
Posted at 05:51 am by
Permalink
I always wanted to do, but didnt have time before,but now I have plenty of time, so I may actually be doing them in the near future
* tennis
* Read books
* learn the Piano
* Attend the university this semester
* Finish the 20+ PS2 games in my shelf
Posted at 04:32 am by
cross
Permalink
or what I spent my student loan on..
obscure
GTO number 22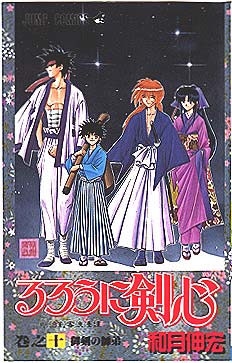 last Kenshin (even though I know how the series will end)
last NGE (same as above)
last vagabond
Posted at 11:03 pm by
cross
Permalink
Childrens Books (Pre Hobbit and Narnian Chronicles)
1. Strewelpeter
2. Where The Wild Things Are
3. Pippy Long Stockings (don't look at me like that!)
4. The BFG
5. The Lorax
Posted at 06:10 am by
Soulslack
Permalink